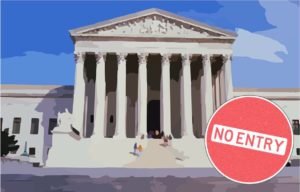 Late last night (October 24, 2017) the Republican controlled Senate narrowly voted to abolish the banking rule that permitted consumers to join class action lawsuits against banks and other financial institutions to resolve disputes.  By a narrow 51-50 vote with Vice President Pence casting the tie breaking vote, the Senate joined the Republican held House in voiding the July 2017 Consumer Financial Protection Bureau Rule that barred financial institutions from using mandatory arbitration clauses to deny groups of aggrieved consumers their day in court.  It is expected that President Trump will quickly sign the measure.
Mandatory arbitration clauses contained in credit card and other applications for financial products such as loans strip a consumer's right to go to court, and instead obligate the consumer to resolve any claims against the institution via mandatory arbitration.  These clauses often contain a "loser pays" provision or other such cost provision.  A mandatory arbitration clause from the Discover Card Company can be viewed here.  The Consumer Financial Protection Bureau rule prevented these large institutions from closing the courthouse doors to consumers.
The Director of the CFPB, Richard Cordray published an opinion piece in the New York Times in August of this year which was cross-posted on the CFPB website on October 16, 2017 after the House voted to dump consumer protections, but before the Senate vote.  In it he explains why consumer lawsuits should be permitted.  Cordray wrote:
"When a data breach at Home Depot in 2014 led to losses for banks nationwide, a group of banks filed a class-action lawsuit seeking compensation. Companies have the choice of taking legal action together. Yet consumers are frequently blocked from exercising the same legal right when they believe that companies have wronged them.
That's because many contracts for products like credit cards and bank accounts have mandatory arbitration clauses that prevent consumers from joining group lawsuits, forcing them to go it alone. For example, a group lawsuit against Wells Fargo for secretly opening phony bank accounts was blocked by arbitration clauses that pushed individual consumers into closed-door proceedings…
Opponents have unleashed attacks to overturn the rule, and the House just passed legislation to that end. Before the Senate decides whether to protect companies or consumers, it's worth correcting the record.
Opponents claim that plaintiffs are better served by acting individually than by joining a group lawsuit. This claim is not supported by facts or common sense. Our study contained revealing data on the results of group lawsuits and individual actions. We found that group lawsuits get more money back to more people. In five years of group lawsuits, we tallied an average of $220 million paid to 6.8 million consumers per year. Yet in the arbitration cases we studied, on average, 16 people per year recovered less than $100,000 total.
It is true that the average payouts are higher in individual suits. But that is because very few people go through arbitration, and they generally do so only when thousands of dollars are at stake, whereas the typical group lawsuit seeks to recover small amounts for many people. Almost nobody spends time or money fighting a small fee on their own. As one judge noted, "only a lunatic or a fanatic sues for $30."
When a bank charges illegal fees to millions of customers and then blocks them from suing together, a result is not millions of individual claims, but zero. So the bank gets to pocket millions in ill-gotten gains."
After the vote Director Cordray said in a statement "Tonight's vote is a giant setback for every consumer in this country…as a result, companies like Wells Fargo and Equifax remain free to break the law without fear of legal blowback from their customers."
The attorneys at the Locks Law Firm are and have been staunch consumer advocates and we are appalled at this Congressional action.  Contact your representatives in Congress and the Senate and demand that consumer protections, including the right to sue, are preserved.  It is the height of hypocrisy to hear large financial institutions falsely claim that they are helping consumers by stripping them of the legal options they themselves use.