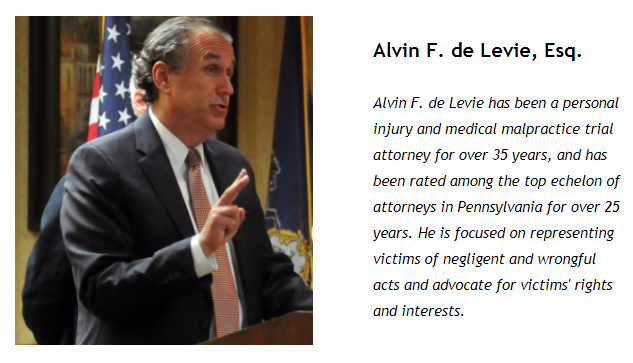 Locks Law Firm is excited to announce its new affiliation with the Law Offices of Alvin F. de Levie. This affiliation allows Locks Law Firm to draw on Alvin F. de Levie's expertise, insight and over 40 years of experience in catastrophic personal injury, medical malpractice, and civil rights litigation. Mr. de Levie will have access to the tremendous talent, cutting edge technology, and resources of the Locks Law Firm – including the firm's nationally renowned Benzene and environmental litigation teams. This new collaboration brings together courtroom experience in counties across Pennsylvania as well as state and federal courts across the nation. 
Past, current, and future clients will now have even greater access to lawyers who are local to them as through this new affiliation clients with the Locks Law Firm and with the Offices of Alvin F. de Levie can meet with their attorney at any of our many locations throughout Pennsylvania, New Jersey, and New York, including the following:
Philadelphia, PA

State College, PA

Cherry Hill, NJ

New York, NY 

Roseland, NJ

Bellefonte, PA

Lock Haven, PA
We have always strived to set the standard for our clients with compassion, understanding and a fighting spirit, using our breadth of knowledge to fight for and protect your rights. With this new alliance we are proud to be able to continue that tradition.