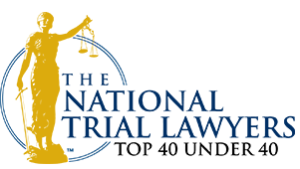 Congratulations to associate James Barry who was selected as a "Top 40 under 40" attorney by the National Trial Lawyers. Mr. Barry focuses his practice on complex litigation including class actions and mass torts, and has appeared regularly in State and Federal Courts on behalf of consumers and workers. Mr. Barry has also been before the New Jersey Supreme Court and Appellate Division regularly in the last few years, arguing on behalf of consumers regarding the enforceability of forced arbitration provisions and substantive consumer rights under New Jersey law.
The National Trial Lawyers is a professional organization comprised of the top trial lawyers from each state or region. The National Trial Lawyers: Top 40 under 40 is a group whose membership is extended by invitation only to the most qualified attorneys from each state who demonstrate superior qualifications of leadership, reputation, influence, stature and public profile measured by objective and uniformly applied standards in compliance with state bar and national Rule 4-7. Invitees must exemplify superior qualifications, trial results, and leadership as a young lawyer under the age of 40. Selection is based on a thorough multi-phase objective process which includes peer nominations combined with third-party research.
You can learn more about the National Trial Lawyers on their website: https://www.thenationaltriallawyers.org/.