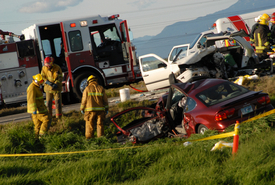 Over the past decade, auto insurance companies have made great strides toward improving their image, largely through excellent public relations campaigns and memorable television commercials. While these companies may seem kinder and gentler than their counterparts of the past, make no mistake about it: these are major corporations that are trying to maximize their profits. Theres nothing wrong with that – as long as these insurance companies play by the books.
Unfortunately, insurance companies often try to increase their profits at the expense of their policyholders. They may, for example, pressure the injured victim of an accident to accept a settlement far below the worth of his or her actual claim, taking advantage of the confusion and chaos that usually mark the aftermath of an accident. In other instances, they simply reject a legitimate claim or pay out less than the policyholder deserves. In many cases, insurance companies get away with such actions because they have the power of intimidation on their side. After all, who wants to stand up to an insurance company?
The Pennsylvania, Philadelphia, and New Jersey personal injury attorneys of Locks Law – thats who.
If you or a member of your family has been injured in an accident, and you are dealing with an insurance company that refuses to play by the rules, our Pennsylvania auto accidents attorneys can help. We feel privileged to stand up for the average person against these insurance behemoths, fighting for justice every step of the way. We cannot be intimidated, and we know how to win.
What Is Insurance Bad Faith?
When you purchase auto insurance, you are entering into a contractual agreement with an insurance company. Essentially, you promise to pay a certain amount each month in exchange for the right to collect payment for losses and expenses as defined by the contract in the case of an accident. Terms, of course, will vary, but as long as you uphold your end of the contract by making your monthly payments in full and on time, the insurance company is legally obligated to abide by those terms, whatever they may be.
Insurance companies do not make money by automatically paying every claim in full upon its submission. These claims are carefully investigated, with insurance company representatives meticulously looking for reasons not to have to pay the full amount of the claim, and possibly not to have to pay anything whatsoever.
In some cases, insurance companies uncover violations that void the terms of the policy; however, when they deny or underpay a legitimate claim without defensible reason, they can be said to have acted in bad faith. The Pennsylvania, Philadelphia, and New Jersey car accident lawyers of Locks Law frequently handle insurance bad faith claims, taking action against these insurance giants and obtaining the compensation that our clients deserve.
Contact Locks Law Today
If you have submitted a valid insurance claim and feel that your insurance company is not upholding its end of the bargain, we urge you to contact the personal injury lawyers of Locks Law, serving Pennsylvania, Philadelphia, and New Jersey, today.