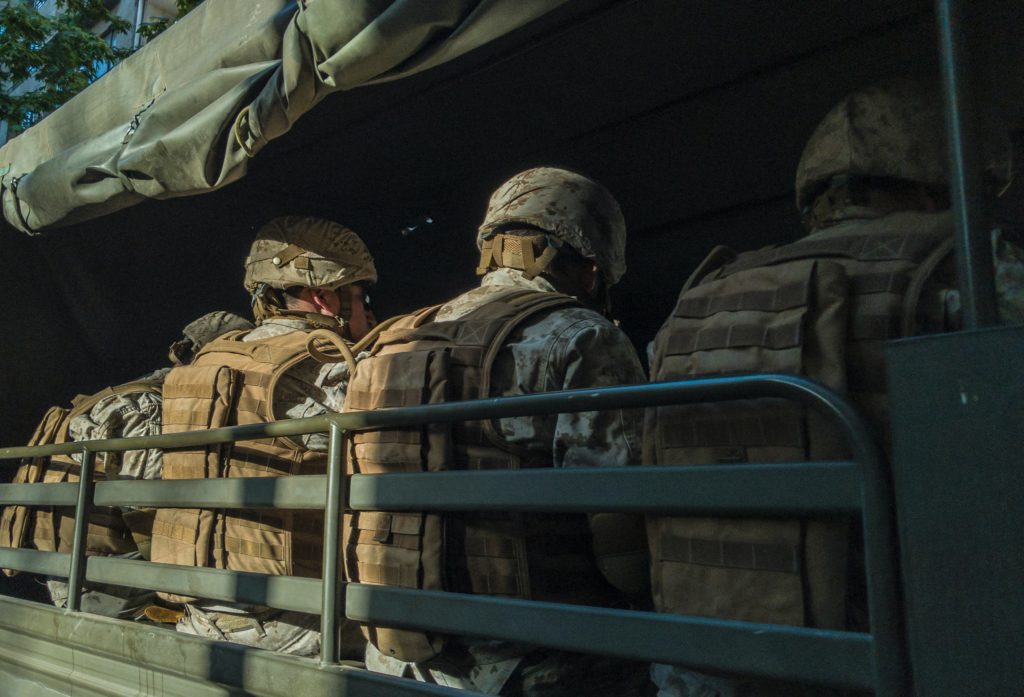 "Justice was denied to too many people in my community" – Gene Locks
Our founding partners' guiding principle is reflected in the tenacity with which the Locks Law Firm has fought on behalf of our clients since the firm's inception. Nowhere is there a clearer example of justice denied than in the moments when the government turns its back on the suffering of veterans.
Throughout the years Locks Law Firm has fought on behalf of veterans around the country: shipyard workers with devastating diagnoses due to inhaling asbestos, veterans exposed to agent orange, service members suffering hearing loss from defective 3M ear plugs, veterans battling cancer caused by benzene exposure, and most recently Marines with cancer caused by drinking water contamination at Camp Lejeune. Even before the PACT Act, Locks Law Firm partner Andrew DuPont secured a $4,870,000 recovery for the family of a Marine who developed leukemia following exposures to benzene on Marine Corps bases in the United States and during his service in Iraq. It's due to this long history of taking up these fights alongside our veterans that we applaud the work of the Wounded Warrior Project, Veterans of Foreign Wars, and the American Legion amongst others and join in celebrating the passage of the PACT Act.
The PACT Act is a far reaching and fully funded legislation that seeks to finally acknowledge and address the vast array of issues related to veterans who suffered due to toxic exposure during their service. Though initially opposed, the PACT Act ultimately passed with massive congressional support and is expected to be signed into law by President Joe Biden next week. The specific protections the PACT Act provides are many fold, according to whitehouse.gov some of the most important benefits are:
"The PACT Act will:

To ensure veterans can receive high-quality health care screenings and services related to potential toxic exposures, the PACT Act expands access to VA health care services for veterans exposed during their military service. For post-9/11 combat veterans, the bill extends the period of time they have to enroll in VA health care from five to ten years post-discharge. For those combat veterans who do not fall within that window, the bill also creates a one-year open enrollment period. These expansions mean that more veterans can enroll in VA health care without having to demonstrate a service connected disability.

The PACT Act codifies VA's new process for evaluating and determining presumption of exposure and service connection for various chronic conditions when the evidence of a military environmental exposure and the associated health risks are strong in the aggregate but hard to prove on an individual basis. PACT requires VA to seek independent evaluation of this process as well as external input on the conditions it will review using this framework. The new process is evidence-based, transparent, and allows VA to make faster policy decisions on crucial exposure issues. This new process has already fundamentally changed how VA makes decisions on environmental exposures and ensures more veterans have access to the care they need.

The legislation removes the need for certain veterans and their survivors to prove service connection if they are diagnosed with one of 23 specific conditions. This greatly reduces the amount of paperwork and need for exams that veterans diagnosed with one of these conditions must complete before being granted access to health care and disability compensation, thereby speeding up their receipt of the benefits they have earned. This list includes 11 respiratory related conditions, along with several forms of cancer, including reproductive cancers, melanoma, pancreatic cancer, kidney cancer, and brain cancers such as glioblastoma. Survivors of veterans who died due to one of these conditions may now also be eligible for benefits.

To better understand the impact of toxic exposures, the PACT Act requires VA to conduct new studies of veterans who served in Southwest Asia during the Gulf War and analyses of post-9/11 veterans' health trends. The new law also directs the Secretary of Veterans Affairs to convene a new interagency working group to develop a five-year strategic plan on toxic exposure research.

Ensuring veterans get the care they need includes ensuring that they are screened for toxic exposure and that VA personnel have the appropriate education and training. The PACT Act requires that veterans enrolled in VA health care be screened regularly for toxic exposure related concerns. This new law also requires VA to establish an outreach program for veterans regarding toxic exposure related benefits and supports, and to require additional toxic exposure related education and training for VA personnel.

This bill also delivers critical resources to VA to ensure it can deliver timely access to services and benefits for all veterans eligible – including those already enrolled. The PACT Act provides VA with mechanisms to enhance claims processing and to increase the workforce. The bill also invests in VA health care facilities by authorizing 31 major medical health clinics and research facilities in 19 states."
In addition the PACT Act also includes the Camp Lejeune Justice Act – a bill that allows veterans, family, civilian workers, contractors, and any others who lived or worked at Camp Lejeune to file claims due to harm caused by exposure to contaminated drinking water at Camp Lejeune between 1953 and 1987. Passage of this act will start a 2 year window during which our firm will strive to help as many of those suffering from this exposure as we possibly can.We are proud to say the Locks Law Firm has been at the forefront of preparing to help those affected by exposure to contaminated water at Camp Lejeune. Recently Partner Al Anthony traveled across the country to meet with other attorneys who have been working to understand and prepare for the claims process. The collaboration and knowledge shared will prove critical to the successful execution of Locks Law Firm's aggressive plans to fight on behalf of those suffering due to contaminated water at Camp Lejeune.
While the passage of the PACT Act and the Camp Lejeune Justice Act provides much needed help to millions there is still much work to be done. I am proud to say that once again Locks Law Firm stands ready to seek justice denied for our veterans and their families.
If you or a family member were exposed to contaminated drinking water at Camp Lejeune and subsequently developed any of the conditions listed below please contact us for more information on what protections the Camp Lejeune Justice Act may provide for you.
Lung cancer
Prostate cancer
Breast cancer
Colon cancer
Kidney disease or cancer
Bladder cancer
Laryngeal cancer
Myelodysplastic syndrome ("MDS")
Pancreatic cancer
Rectal cancer
Leukemia or lymphoma
Liver Cancer
Parkinson disease
Scleroderma/systemic sclerosis
Multiple myeloma