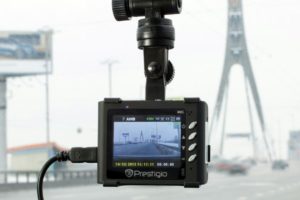 Police received a 9-1-1 call of an attempt to break into a car. The suspect drove away in a black SUV. The SUV was spotted and chased. The chase was at high speed through several towns. At one point, the SUV tried to ram a police car head-on. The driver of the SUV lost control and crashed into a guardrail on an overpass. Police surrounded the SUV. The driver tried to get free of the barrier by accelerating. An officer thought the SUV might hit him and another officer. Officers fired, hitting the driver, who was pronounced dead hours later.
From this violent beginning, an important discovery opinion was released this year by the New Jersey Supreme Court: North Jersey Media Group, Inc. v. Township of Lyndhurst, 229 N.J. 541, 163 A.3d 887 (July 11, 2017). Newspapers wanted to obtain many types of records about this incident, including three dash-cam videos from mobile video recorders (MVRs) in police cars.
The Court recognized "the public's powerful interest in disclosure of [dash-cam videos] in the case of a police shooting." The Court referenced recent police shootings when it said, "As recent events across the nation make clear, shootings that involve law enforcement officers generate widespread interest – when an officer, a civilian, or both are harmed." The Court pointed to the power of these videos that "can expose misconduct and debunk false accusations."
The Court held that under the common law, such dash-cam videos can be released "once investigators, shortly after an incident, have interviewed the principal witnesses who observed the shooting and are willing to speak to law enforcement." This is a strong command for the release of dash-cam videos.
These videos can be crucial in providing civil rights cases based on stops by police. Locks Law Firm has experience in obtaining surveillance videos of all types and stands ready to help.