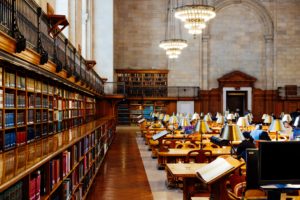 It has been almost one year into my time here at the Locks Law Firm as a practicing attorney, and it has been a fulfilling experience thus far.  Prior to Locks Law Firm, I was a judicial law clerk for several years.  I have clerked for a trial court judge.  I have also clerked for an appellate court judge.  Both judges are extremely intelligent and hardworking individuals, and I have learned a great deal from each of them.  My clerkship experience was definitely valuable and rewarding.  

An article authored by John A. Fischer in The Young Lawyer for the American Bar Association Young Lawyers Division aptly notes the many advantages of being a law clerk, which include opportunities to:

– Get a peek at 'life on the inside.'  A judicial clerk can see firsthand how a judge approaches a case, considers briefs of the parties, researches issues, and drafts opinions.  A clerkship provides a view into the life of a lawsuit from the court's perspective.  Such inside knowledge is a valuable asset that builds any resume.
– Improve your legal skills.  A judicial clerkship lets you see what arguments and writing styles work and why and what judges like and dislike.  Getting a fresh perspective on legal research and writing is a benefit to any attorney at any stage of legal practice.
– See the good, the bad, and the ugly.  Judicial clerks watch real-world lawyers in action and see some great litigators, some fair ones, and some who are unprepared.  This provides a great chance to learn what works in a court, including before a jury, and what does not.

I have recently spoken to both judges and have told them about my current experiences as a practicing attorney.  They both replied with similar answers.  One expressed happiness that I had "spread my wings" and was flying.  The other was pleasantly surprised that I was engaged in almost all aspects of law practice.  After pondering their remarks, I concluded that I had indeed.  In the short span of time, I have had the opportunity to prepare pleadings, conduct discovery, attend hearings and conferences, conduct depositions, communicate with potential and current clients, confer and discuss matters with opposing counsel, strategize with colleagues, and learn from some of the best attorneys under one roof.  Although I still have a lot to learn and accomplish, these experiences have already made a positive impact on my personal and professional growth.  I believe that the best is yet to come!

Although it has been at times a daunting and challenging transition, it has been a fulfilling and rewarding one.  My judicial clerkship experience has provided me with a solid framework of legal skills that will continue to aid me in the practice of law.  Those skills will most certainly be useful as I continue to have the pleasure of working on a client's behalf to pursue the best outcome.