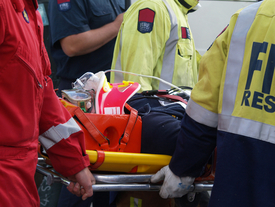 Sadly, more than one million Americans suffer brain injuries each year. For some, the effects of brain injury are temporary. But all too many brain injury victims die or suffer permanent disability. The Pennsylvania, Philadelphia, and New Jersey personal injury attorneys of Locks Law Firm have experience handling traumatic brain injury cases for our clients. Here, we review the types of brain injuries that can occur.
Acquired Brain Injury
An acquired brain injury refers to all types of traumatic brain injury, as well as other incidents occurring after birth that could injure the brain at the cellular level, such as illness, exposure to toxic substances, or lack of oxygen or blood to the brain. Acquired brain injuries are not present in any way at birth; this means that diseases or conditions that affect the brain, but are believed to be genetic or hereditary (such as Alzheimer's and Parkinson's disease), are not included in the definition of acquired brain injury.
Causes of non-traumatic, acquired brain injuries include:
Aneurysms
Anoxia or hypoxia
Asphyxiation
Drug abuse
Heart attacks
Infection, such as meningitis
Ischemia
Poisoning, such as lead or mercury poisoning
Tumors
Stroke
Traumatic Brain Injury
Traumatic brain injuries alter brain function as a result of an external injury that damages the brain; they are categorized as open or closed head injuries.
Open/Penetrating Head Injury
An open, or penetrating, head injury results when an object passes through the skull and damages a specific part of the brain. Causes of open brain injuries include:
Gunshot wound
Stabbing wound
Construction or occupational accident injury
Closed Head Injury
A closed brain injury involves a strong blow to the head; the impact causes damage, in many cases, to multiple areas of the brain, rather than to one specific area. Causes of closed brain injuries include:
Sporting injuries
Auto accidents
Falls
Assault
Specific Head Injuries
There are several types of specific brain injury that may affect patients. These include:
Skull fractures: A skull fracture occurs when one or more bones of the skull have been broken.
Concussions: After a blow to the head, most patients will suffer a concussion, which results in headaches, lack of mental alertness, and the possible loss of consciousness. Repeated concussions can result in more serious brain injury.
Contusions: A contusion refers to bruising of the brain, and can result in swelling, bleeding, and hematomas.
Hematomas/Blood clots: A hematoma is the collection of blood, usually clotted, that occurs outside of the blood vessels.
Nerve damage: A brain injury can damage or impair the nerves in the brain. This can have serious effects, including:
Facial paralysis
Double vision
Vision loss
Problems swallowing
Hearing loss
Ringing in the ears
Impaired ability to smell
Seizures
Impaired arm and/or leg coordination
Poor motor function
Memory problems
Slower processing skills
Trouble concentrating
Our Pennsylvania and New Jersey brain injury attorneys can evaluate your claim and determine if you have a valid case. We will fight to help you obtain the damages you deserve. Contact Locks Law Firm today for a case review.