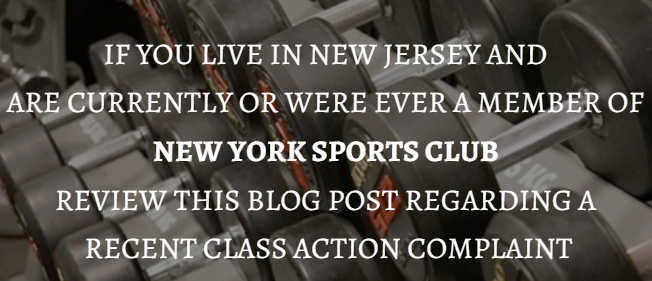 A CLASS ACTION LAWSUIT HAS BEEN FILED IN JIATZ v. NEW YORK SPORTS CLUBS, BERGEN COUNTY SUPERIOR COURT, NEW JERSEY, DOCKET NO: L-5245-17.
THE ABOVE CLASS ACTION ALLEGES VIOLATIONS OF THE NEW JERSEY CONSUMER FRAUD ACT AND THE TRUTH-IN-CONSUMER CONTRACT WARRANTY AND NOTICE ACT ON THE PART OF NEW YORK SPORTS CLUB. THE DEFENDANT DENIES AND DISPUTES ANY SUCH ALLEGATIONS CONTAINED IN THE COMPLAINT.
IF YOU HAVE PURCHASED A MEMBERSHIP AT A NEW YORK SPORTS CLUB FACILITY IN NEW JERSEY SINCE AUGUST 3, 2011 AND ALLEGE THAT YOU MAY HAVE BEEN THE VICTIM OF ANY VIOLATIONS OF THE ABOVE CONSUMER PROTECTION STATUTES ON THE PART OF THE ABOVE DEFENDANT BY NEW YORK SPORTS CLUB, THE BELOW ATTORNEYS ARE INVESTIGATING SIMILAR CLAIMS.
PLEASE CALL OR E-MAIL:
LOCKS LAW FIRM
801 N. KINGS HIGHWAY
CHERRY HILL, NJ 08034
(856) 663-8200 or criley@rileysandilos.com